Minecraft & IT software targeted with fake websites & Remote Access Trojans
Background research
In January of 2022 Félix Aimé from SEKOIA shared a detailed twitter thread about a threat actor targeting open source projects. Some of the domains that Félix proactively shared were hosted and abused. Bleeping Computer published an article about this campaign titled: Trojanized dnSpy app drops malware cocktail on researchers, devs
In June of 2022 I tweeted about malicious advertising targeting OpenBroadcastSoftware leading to remote access trojans.
In July of 2022 Twitter users @felixaime and @_yannis2707 discussed new domains operated by this threat actor. This blog post aims to summarize the existing research and observations about this threat actor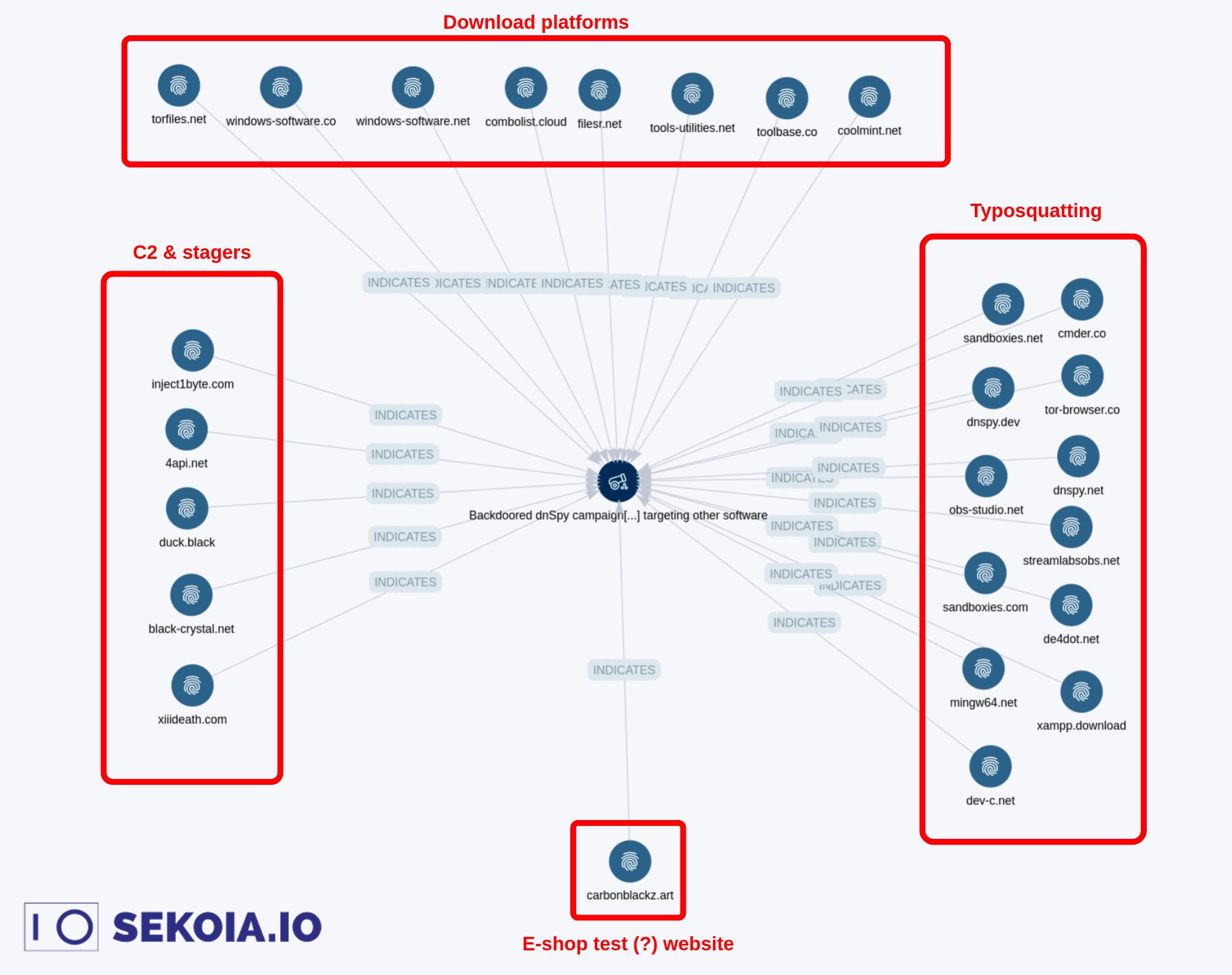 Source: @felixaime on twitter, Threat Intel at SEKIO. Janurary 2022.
Attack Overview
Malicious advertising -> Malware download -> Scheduled Task Creation -> Download of Remote Access Trojans & CryptoMiners
This blog post is primarily focused on documenting the network infrastructure used and will not feature full malware analysis (at least for now).
Active Targeting as of July 3rd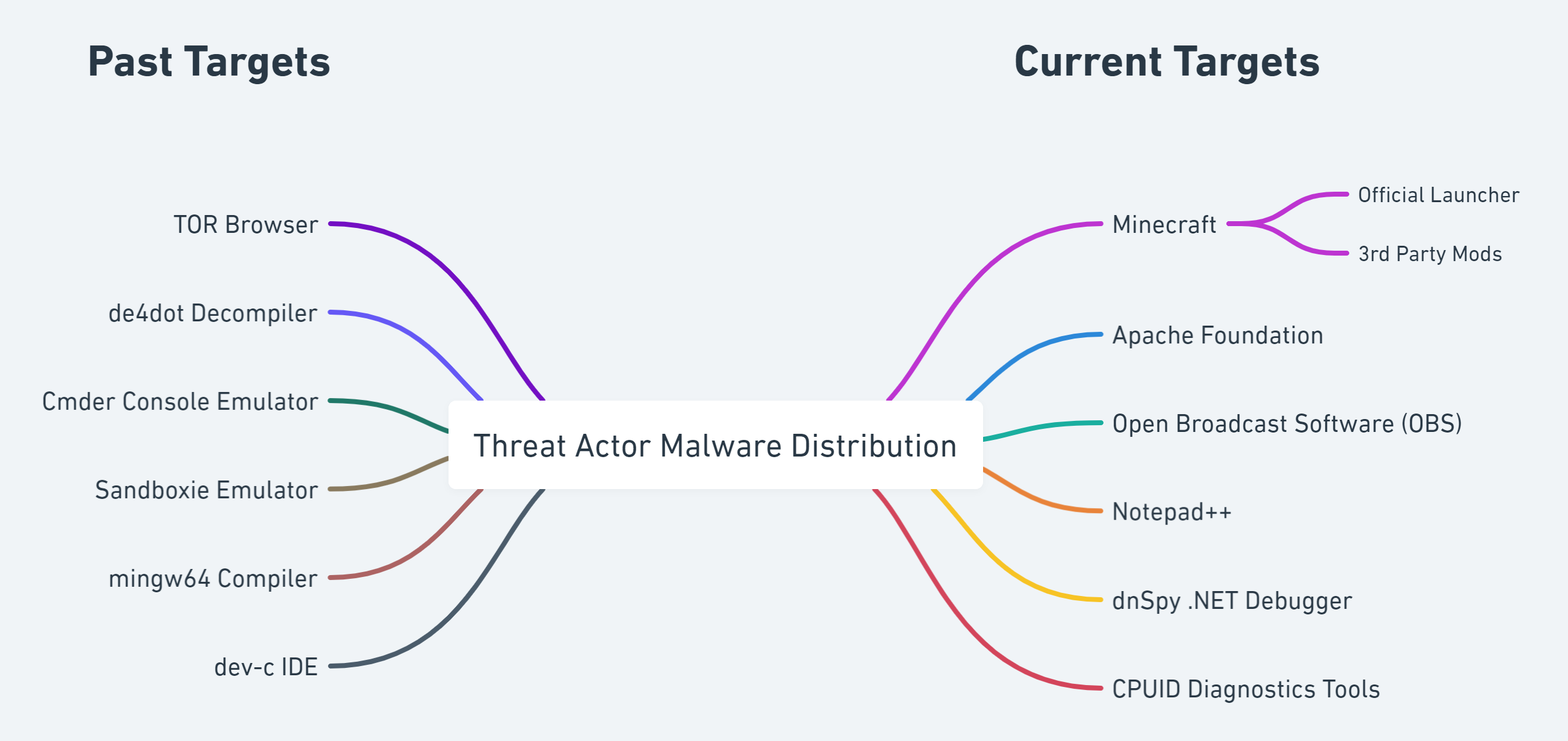 All of the following domains were setup by this threat actor to distribute malware. In some cases search engine adverting is leveraged to increase inbound web traffic.
Apache
Minecraft
minecraft-launcher[.]net
tlauncherminecraft[.]net
optifine[.]app
Open Broadcast Software (OBS)
Notepad++
dnSpy .NET debugger and assembly editor
CPU Diagnostics Tools
Online, but not active yet
Minecraft
minecraft-download[.]win
minecraft-java[.]com
minecraftfree[.]net
minecraftz[.]net
Historical Targets
Open Broadcast Software (OBS)
streamlabsobs[.]net
obs-studio[.]net
Apache
Tor Browser
Other Security & IT Tools
cmder[.]co
sandboxies[.]net
mingw64[.]net
dev-c[.]net
de4dot[.]net
dnspy[.]net
Other Historical Threat Actor Websites
combolist[.]cloud
windows-software[.]co
toolbase[.]co
torfiles[.]net
coolmint[.]net
filesr[.]net
windows-software[.]net
tools-utilities[.]net
carbonblackz[.]art
Second Stage & C2 Indicators
Threat Actor Cloud Hosting
s3.us-west-1.wasabisys[.]com/cdnfiles/obs/
s3.us-west-1.wasabisys[.]com/cdnfiles/minecraft/
Threat Actor Malware Scripts
codenote[.]org/raw/6mhzh0nqmg
notepadd[.]net/raw/b4ym7
codenote[.]org/raw/xhwv8nqthh
notepadd[.]net/raw/obsx
Command and Control Servers
xiiideath[.]com
inject1byte[.]com
black-crystal[.]net
4api[.]net
4bash[.]net
4need[.]net
4perl[.]net
duck[.]black
l96[.]org
Related Files
OBS-Studio-27.2.4-Full-Installer-x64.exe

1689db24be08cc680864338e57088c784d141187

obs64.exe

2735c8a59d391cbc7377bd0eabc846462b110acd

n.exe

8e6c31409562dae2beaeaee873de14fc98caba7a

TLauncher-2.841-Installer-0.9.9.exe

ecb3b9b63b226cfe1534260f63165bdc5730d136

s.exe

d6a142337788d09e98af6665ea44899b248e46fd